You decided to go for a fresh new look, but how can you find the perfect haircut that will fit you the best? The truth is, no matter how cool a haircut looks on your friend, it may look completely different to you. That's why, at Barber Juul, before cutting your hair, we take our time to study your face shape and how your hair grows. That's one of the reasons why we are the #1 barbershop in Breda!
The perfect haircut for your face
Book an appointment at our barbershop, and we will help you choose the perfect haircut for you! In the meantime, to give you an idea of how we do what we do, here are some tips:
Why are your hair texture and face shape so important?
There are two main things to consider when choosing the right haircut for your face:
Your haircut can change the way your face looks
And I mean in a meaningful way, not a small difference. The thing is, no matter how much you may like a certain haircut, sometimes it just won't go well with your face. But this is also a reason why choosing the right haircut can make you look great! Find the right haircut for your face and you will immediately notice the difference.
Both your face shape and hair texture are important
For example, if you have a round face shape and curly hair, a short haircut will make your face look very wide. In that case, you may be better off with a longer hairstyle that will define your curls and will not add "bulk" to the side of your face.
Best haircut for round faces
You want a haircut that will not make your face look puffy! This means exalting the angles of your face and making your face look slimmer. In general, you want to add height on the top. Some great haircuts for round faces are:
Textured Crop: shaved or very short sides, and longer on the top, with or without fade. You can choose to have the hair on top longer and style it upwards, or to have it textured and with a short fringe.
Pompadour and undercut: classic haircut for men. Very short on the sides and with a smooth side, long and slicked back with a wet look on top.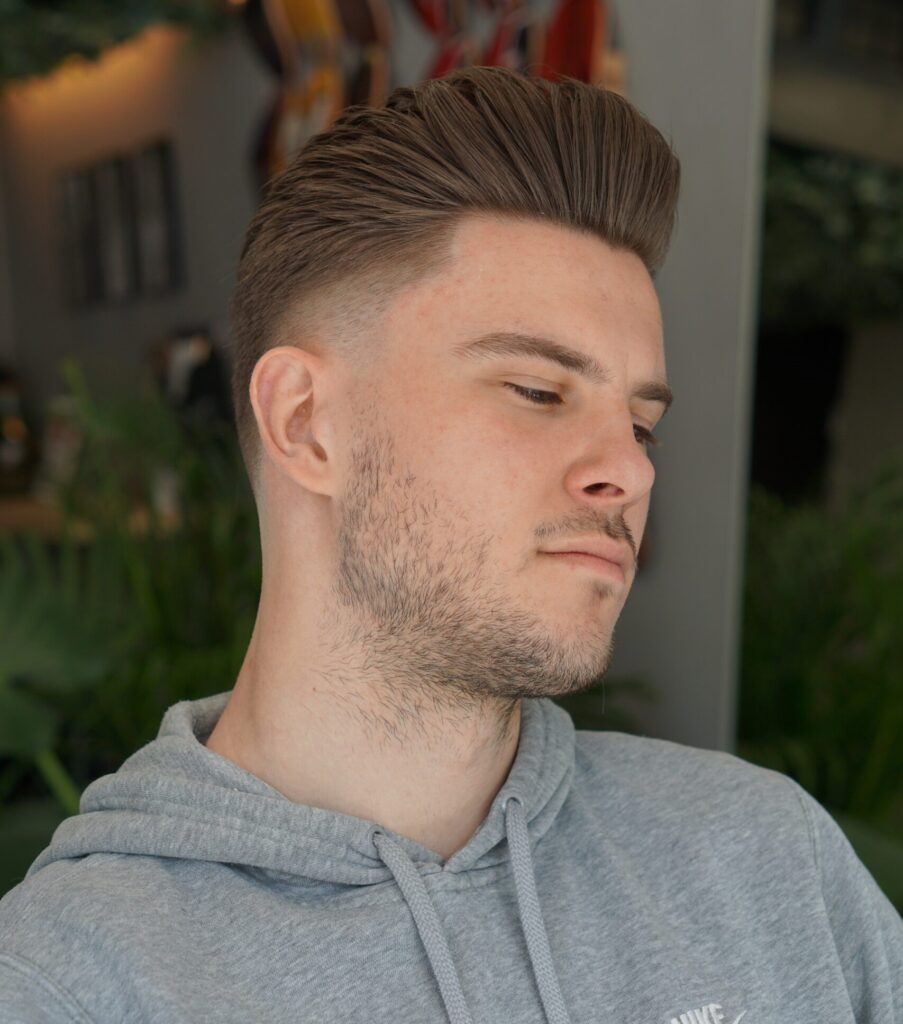 Blowout: the top is longer, and you style it by pulling it upward and/or a bit backward. Makes your face look longer, and diverts attention from the round shape.
Messy Waves: a great option for round faces, especially if you have wavy hair. It's a longer haircut, with soft and messy waves that can hide the "roundness" by making your face look longer and slimmer.
Best haircut for square faces
You need the exact opposite of a round face! The haircut should soften the angles of your face, and adds volume at the top.
French Crop/Caesar Cut: both hairstyles feature short bangs in thefront. The main difference is that the French Crop features longer bangs with a messy or wavy look. The Caesar Cut features very short, blunt, and horizontally-cut bangs. The sides can also differ: they are short in both cuts, but the contrast between sides and top is more extreme in the French Crop.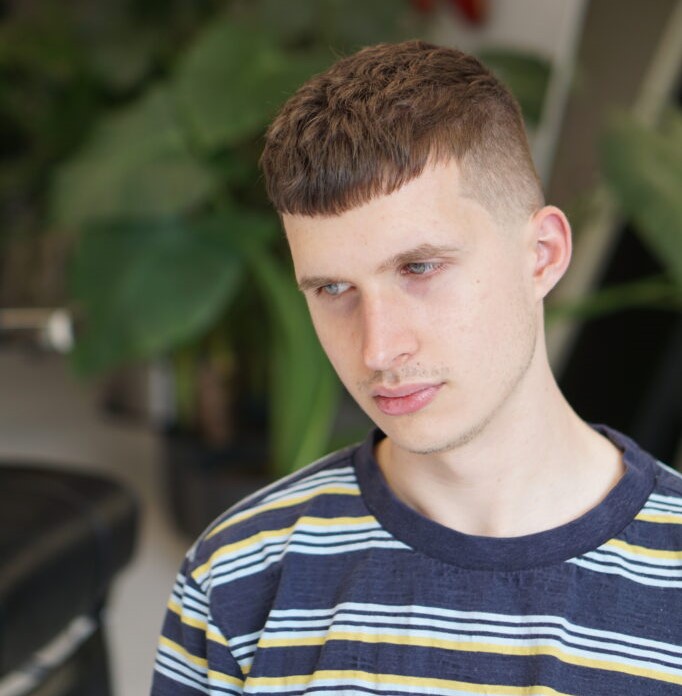 Classic Taper: one of the most versatile haircuts for men. Short, but not too short on the sides, and a bit longer on top, so you can style it as you want!
Ivy League Cut: like a crew cut, so very short, but the top front is long enough to style it a bit, often with a side part. Very easy to style in the morning, can be low maintenance if your hair doesn't grow very fast!
Best haircut for oval faces
If you have an oval face shape, well, you're lucky: most haircuts will look fine on you! Almost everything will work, but here are some options:
Buzz Cut: not a clean shave, but as close as it gets. This military-style haircut looks very masculine, it is practical and low-maintenance. It is a uniform short haircut, with one or two millimeters in length.
Crew Cut Fade: another very short and practical hairstyle, easy to fix and maintain. Very short on the side, and a bit longer on the top. A modern version of the classic Crew Cut, with a marked difference in length between the top and the sides. You can choose what you prefer between low, high, or mid fade.
Undercut: this is a quite versatile and popular modern haircut, one of our specialties at Barber Juul. It features very short sides, often shaved clean, that contrast nicely with the long top, that you can slick back or part to the side.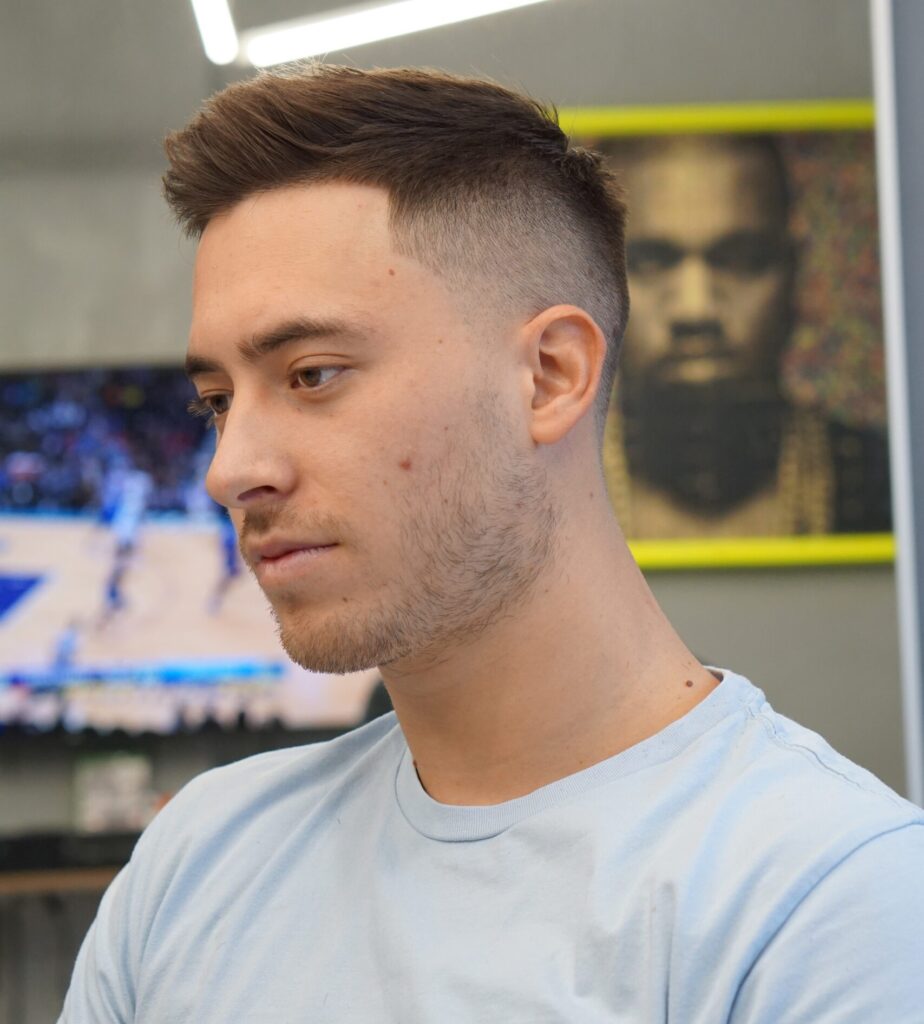 Get a fresh haircut designed for you at Barber Juul

#1 Barbershop in Breda
Come to visit us at our barbershop in Breda, and we will check with you which styles are better for you. Once you have decided, we will make sure to adapt your preferred style so you will look as fresh as ever when you leave our shop!
Read More